KAR (Kurdistan autonomous region)
those disputed blocs colored in blue are all kurdish cities and 90% of their residents are kurds but were isolated from Kurdistan by Saddam for their oil reserves
KRG (kurdistan regional government)
Intro
Sulaimania (Kurdish: سلێمانی / Silêmanî / Slemani ); is a city in Iraqi Kurdistan. It is the capital of Slemani Governorate and served as the capital of the Kingdom of Kurdistan from 1921 until 1924. it is surrounded by the Azmar Range, Goizja Range and the Qaiwan Range in the north east, Baranan Mountain in the south and the Tasluje Hills in the west. The city has a semi-arid climate with very hot and dry summers and very cold winters. it has served as the historic capital of the Kurdish principality of Baban from 1784 to 1850.
The modern city of Slemani was founded in 14th November 1784 by the Kurdish prince Ibrahim Pasha Baban who named it after his father Sulaiman Pasha. Because it was founded as the capital of a powerful Kurdish principality, it has developed into a large city with a population of about 759,508 people. It is the cultural center of the Sorani-speaking Kurds and an important economic center for Iraqi Kurdistan.
in 2008 the Kurdistan regional Governments (KRG) former presidents 'Nechir barzani' promised the Kurdish people that in 10 years we will be if not just same but better than Dubai
The Airport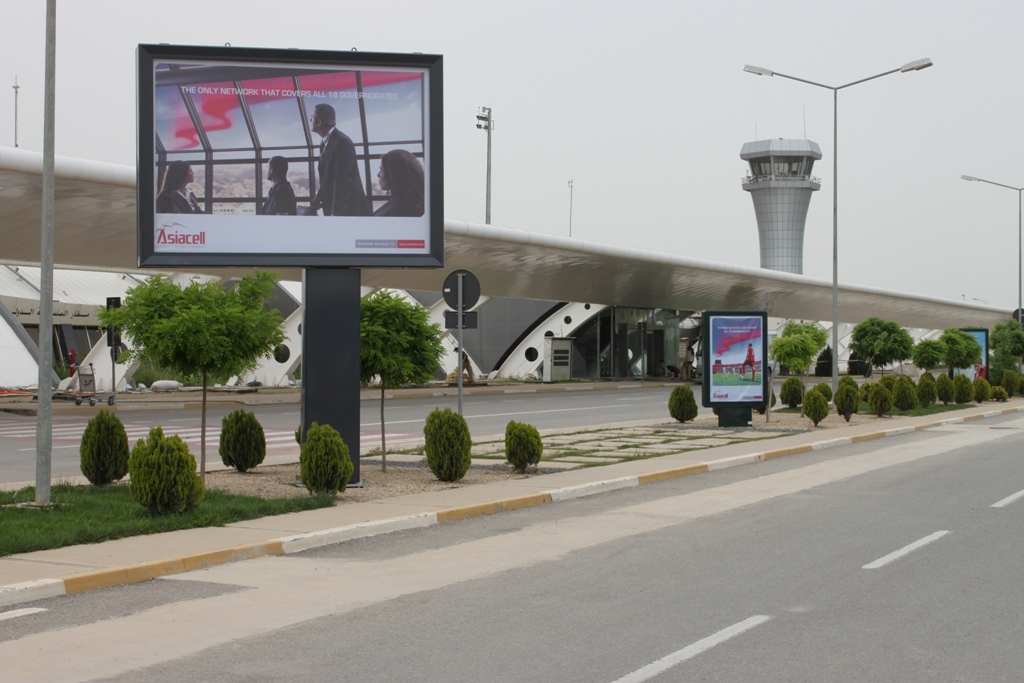 http://www.flickr.com/photos/26399174@N04/3227480599/
http://www.flickr.com/photos/26399174@N04/3228334692/
SHARI JWAN (Grand Millennium) Hotel
The tower consists of 38 floors with a total height of 150 m from the top of the hill. The mail building includes five restaurants, fitness and health area, an outdoor swimming pool, and children's playground. The hotel will consist of 196 rooms, 55 suites and 2 royal suites. The tower features a unique architecture with a revolving restaurant on the top of the building.
http://zanaenterprise.com.au/sharyjwan.php
Qaiwan group tower
a Five Star Hotel (22550 m2 Buildup area) which has 196 guest rooms, 55 suites and special suites, five restaurants (Mexican, Chinese, Italian, Lebanese and All day dining restaurant) beside a revolving restaurant at the top of the tower, and all other areas that five star hotels include.
One auditorium accommodating 300 seats (6846 m2) and one ball room for 750 people (5378 m2) are annexed to the tower.
The whole project is located at the top of a hill about 50 meters above the street level overlooking the whole city of sulaimaniya.
The above mentioned buildings are surrounded by well designed landscape, parking and access roads.
http://www.qaiwangroup.com/projects/qaiwan-towers
http://www.flickr.com/photos/rpenjweni/6400910143/in/photostream
Jaff towers u/c
the tallest apartments in Kurdistan.This project is under design now, located in Sulaimaniah, Sarchnar, it consists three symmetrical towers, the project built on area ≈20,000m², and each tower consists 32 floors and two basements. The basement function is car parking, from first to 29th floor typical and consist 6 flats (2*120m², 2* 150m², 2*180m²),30th and31th
Floor consist of 4floors each one 225m².
The Area of each floor 1150m²
The estimated cost is 600 $/m².
http://falcon-com.com/Towers.php
City star Mall
PM of KRG
http://www.barhamsalih.net
http://www.barhamsalih.net
http://www.flickr.com/photos/rpenjweni/6400913825/in/photostream
http://www.flickr.com/photos/rpenjweni/6400775263/in/photostream
http://xendan.org/
http://www.pukm1.com/Detail.aspx?id=8644&LinkID=3
http://www.pukm1.com/Detail.aspx?id=8644&LinkID=3
http://www.citystarmall.co/Default.aspx
http://www.facebook.com/photo.php?fbid=258012230914347&set=o.149077461800643&type=3
http://www.citystarmall.co/Default.aspx
http://xendan.org
http://xendan.org
6 Towers | 29 Floors | U/C
Foundation stone laid for 6 towers which will be apartments with 29 floors each . it includes 650 units .
http://www.pukm1.com/Detail.aspx?id=9417&LinkID=3
Dily Shar u/c
this project includes 350 housing units on the salim street with all the services.
such as 20% landscape,modern market,car park for each apartment,swimming pool,and nursery
http://www.bareazgroup.com/Weberhinan_E.aspx?Jimare=32&proje=2
Mixed-Use Tower in Sulaimani
http://www.adnan-aswad.com/English/iraq.html
Majidi Mall Sulaimani | U/C
PROJECT DETAILS
Location : Tasluja road
Built Area : 80000 m²
Project Elements :
City Centre Hyper market, 100 Brands, 20 different Restaurants, 5 different cafes, indoor game land and bowling center, normal and 6D cinema, 2000 car parks.
Majidi Mall construction located on the road to Tosluja was started in 2011 by Goc Kardeshler and construction works are proceeding rapidly in order to be delivered in 2012.
http://hewa.com/en/investment/majidi-mall-sulaimany
http://www.mawtani.com/cocoon/iii/xhtml/en_GB/features/iii/features/iraqtoday/2010/11/14/feature-01
Slemani 3000 shopping mall u/c
Breaz Co. invests this project on the area 4200m2 on the
Malik Mshmood street in Sulamani.
The project consists of the largest supermarket in the city, sport
hall,commercial offices , and sport services . The building of the project
is designed in a very modern way and involves all the new services and
facilities.
Sulaimani Mall
Located on Salim Street, the Sulaimany Mall is centrally located to accommodate consumers, office tenants and apartment residents.
The Mall complex sprawls a land area of 6000m2 (total buildup area of 65,500m2).
It includes a 20,000m2 state-of-the art luxury enclosed commercial shopping area. Additionally , a 15,000 m2 office tower will provide centralized locality with modern amenities to 163 office spaces. Adjacent to the office tower, a 15,500m2 luxury full-service apartment high rise, encompassing 149 apartment units, majestically overlooks cosmopolitan Sulaimany.
Three underground parking levels will accommodate a total of 300 automobiles for the Sulaimany Mall complex.
http://www.farukholding.com/%28A%28fe9xX8DyygEkAAAAYWM5OWM2OGEtZGFhNy00NDA2LWE3ZTgtODE0N2MzNWY1NDJhqqynozn4KUvB7cTRSh1FQLvfpjk1%29%29/Projects.aspx?PartID=89&LinkID=16
Slemani City Center U/C
Al Sulaymaniya City Center which consist of three parts,First one contain a two 14 floor tower, one for offices and the other is furnished apartments.Second one is Mall.Third one is contain a Cinema, Food court and Playing area.
http://www.panoramio.com/photo/45442947
http://www.architizer.com/en_us/projects/view/al-sulaymaniyah-city-center/15858/?sr=1
http://www.behance.net/gallery/Sulaymania-City-Center/774402
Faruk Group
Location: SLEMANI salm street
cost: $30 million
Faruk Building in Sulaimani/ Kurdistan Iraq is an important move not from management level but also it is an indication for a new management structure and a new vision for investment in Kurdistan, Iraq and the region.
The Group which does hold investment and companies owned by the businessman Mr Faruk Mustafa Rasool , which has a diversified activities in Telecommunications, Hotels , Medical services , Buildings , Construction , Car Agencies ,IT Technologies and Offshore Companies.
http://www.moon25.com/poland/1167038-slemani-faruk-group-building-u-c.html
The "city of Sulaymaniya"
Project is located in the city of Sulaymaniya province of Sulaimaniya, where the establishment of the project area (2500) acres and Atzmn:
1 - a tourist hotel (5) five stars.
2 - Mall.
3 - commercial offices in three designs:
· Design the first to be shaped (O) the number of English (6).
· Design the second letter on the form (I) the number of English (13).
· Design the third form letter (L) the number of English (4).
4 - two species and housing units:
· Type I: the area of each residential unit (Villa) (500 m 2) number (350) Villa.
· Type II: the area of each residential unit (Villa) (1000 m 2) number (280) Villa.
5 - a commercial tower.
6 - Number of housing units (4) Each unit residential rate (15) floor and the total of (120) for each apartment unit where the residential apartments in three designs (150 m 2 200 m 2 250 m 2).
http://www.pankgroup.net/Default.aspx?page=gallery_detail&c=gallery&id=285&l=1
Bank of Kurdistan u/c
http://www.facebook.com/MamSleman?sk=photos
http://www.flickr.com/photos/57223774@N03/5754711386/sizes/l/in/photostream/
North Bank Complex
http://falcon-com.com/NorthBankComplex.php
http://www.flickr.com/photos/57223774@N03/5756575576/sizes/l/in/photostream/
Kurdistan mall - Completed
location: Salm street
cost: $20 million
area: 5200 m2
completed: 10.05.2011
http://www.flickr.com/photos/57223774@N03/5762436426/
http://www.flickr.com/photos/57223774@N03/5762441968/in/photostream/
Multi Purpose Building - proposal
Area : 121000 sq.m & Height : 152 m
No. of Middle tower's storey : 35
No. of Side towers's storey : 25 & 30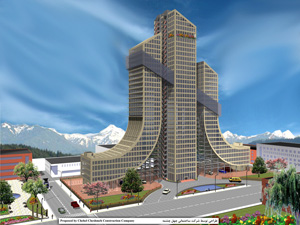 http://www.ccccoiran.com
Garden City U/C
Project Of Bayan Company for Real Estate Investment – Ltd
http://www.halabjagroup.com
Goyzha Suburb apartments
Pak City
Beharan Residential Complex
http://www.farukholding.com
http://www.panoramio.com/photo/45442978
Diya city u/c
Project Location : Sulamani, 60 meter street
Total Area : 205000 m2
NO.of Normal houses 301
NO.of apartments : 364
Services : private kindergarten , hospital , commercial , zone , market and masque
Building system : Normal houses : SISMO
Silemani Municipality
Floor area : 26000 Sq.m
Contain : 2 Storey Parking and 7 Storey Miniterial area,Multi Storey Parking
Contractor : Chehel Cheshmeh Construction Company
http://ccccoiran.com/images/projects
http://ccccoiran.com
5 Star Hotel and Trade Center - proposal
length : 89 m
width : 37 m
Number of Storey : 27 m
Lift : 14
Story in Basement: Parking & Multi purpose Saloon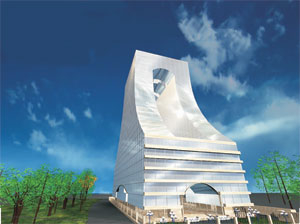 400 bed Slemani hospital u/c
consists of the hospital six floors of office space (25) without being built according to the latest engineering design, medical and contains (400) Bed, with all medical departments and curative For the field work was conducted in the hospital , visited Mr. Imad Ahmed, Vice President of the Kurdistan Regional Government Hospital project Sulaymaniyah new year and which is monitoring the (57) million dollars.
http://rudaw.net/kurdish/
http://www.panoramio.com/photo/60014372
Faruk Medical Center
Zana Enterprise is involved in furnishing the Faruk Medical Centre of Excellence. The medical center will be built in the city of Sulaymania, Kurdistan, Iraq. The hospital should be completed around 2011 and is designated to provide the following services:
•Sophisticated diagnostic center
•Advanced teaching hospital
•Rehabilitation services
•Medical, paramedical and other training
The teaching hospital consists of 120-150 beds, 86 single bed rooms
http://zanaenterprise.com.au/fmce.php
http://www.farukmedicalcenter.com/
New University of Sulaimani u/c
* Design and Build of University Campus.
* $260 Million original contract value.
* 2 Million m2 overall ground area.
* 6 Years Construction Period.
* 42 Buildings with total floor area of 350,000 m2
* To accommodate 20,000 students.
* Includes 12 km of Circulation Roads and Walkways.
* All Utilities Including Water Treatment, Wastewater Treatment, Power Generation & Distribution, Drainage system and Sewerage system.
http://metmimarlik.com/1/1-index.htm
Foundation stone laid for an international private University
17/12/2011 15:40
Slemani 17 December 2011 / (AKnews)
Today Kurdistan PM attended the laying of Foundation stone for an international private University .
It will be called the "international University" (Zankoi Jihan) in Slemani , and Kurdistan PM Barham Saleh said "the University will be a private one and the cost of the project will be $156 Million , i hope in we will also open similar Universities in the cities of Kirkuk and Duhok".
Farman Xarib the general director of investment in the city of Silemani said that the project has be given permission from the "investment committee" and the land allocated for the project is around 120 Donum in (Olluba) suburb , he said the duration is 3 years and will cover all the units for the students to be studied in.
http://www.aknews.com/ku/aknews/3/278767/
http://www.pukm1.com/Detail.aspx?id=8986&LinkID=3
Rehabilitation Hospital u/c
This project is designed as part of a medical . The rehabilitation hospital is programmed to handle non-critical cases and contains three adult rehab inpatient wards and one pediatric rehab inpatient ward for a total of 105 beds. The hospital is fully equipped with an outpatient department, minor surgery unit, x-ray department, rehabilitation center with adult and pediatric therapy areas including occupational, vocational, hydro, electro, and physical therapy. The hospital is also equipped with all ancillary support departments to cater to the 105 beds including departments such as the laboratory, theater sterile supply unit (TSSU), laundry, catering and dining, central stores, and pharmacy to name a few.
http://www.ccjo.com/Projects/Building/MedicalHospitals/SulaimaniyaRehabilitationHospitalIRAQ/tabid/861/Default.aspx
Al-Anfal Monument Project | u/c
Location: Erbil-slemani road
area: 15000 m2
project includes indoor and outdoor conference hall and amphitheater
http://cankiriinsaat.com
http://www.panoramio.com/photo/61726508
http://www.panoramio.com/photo/61704705
Kaso Mall
http://www.flickr.com/photos/57223774@N03/5757928737/sizes/l/in/photostream/
http://www.kurdmax.com/mako/showthread.php?tid=10065
http://www.flickr.com/photos/26821521@N03/4794064311/
http://www.flickr.com/photos/26821521@N03/4794063585/
http://pukmedia.com/english/index.php?option=com_content&view=article&id=2135%3Akrg-prime-minster-inaugurates-kaso-mall-in-sulaimani-&Itemid=385
Some Governmental buildings
Governorate:
Public Library
http://www.panoramio.com
Slemani Court house
http://www.panoramio.com/photo/60050584?source=wapi&referrer=www.panoramio.com
Slemani Public Library
Ministry of Endowments and Religious Affairs
http://www.flickr.com/photos/14819837@N03/2882110504/sizes/l/
Arts Palace
founded in 2003, is the center for plays, concerts, film festivals and the AUI-S graduation ceremony
http://www.panoramio.com/photo/53483260
Directorate of Publications
[url="http://www.panoramio.com/photo/41992519"]http://www.panoramio.com/photo/41992519[/url]
Directorate of Water resources
Korek telecomm
Silemani TAFE (college)
it was 1st established in 1973 and renovated in 2007
[url="http://www.tisulaimany.com/viewpage.php?page_id=16"]http://www.tisulaimany.com/viewpage.php?page_id=16[/url]