Click Image to Enlarge: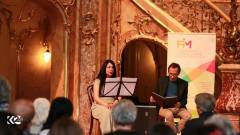 Mem and Zin opera
ERBIL (Kurdistan 24) – The Mayfest Festival is held annually in Germany with the participation of European countries and dozens of international musicians
This year, for the first time, the opera of Mem and Zin was performed in the Kurdish language in the presence of a large number of foreign artists and Kurdish musicians.
Mem and Zin is a literary masterpiece of the renowned Kurdish poet, Ehmede Khani.
Ihsan Osman directed the opera, which starred Keval Sadeghi and Christoph Bleidt.
Osman told Kurdistan 24 that the text is the most famous literary work of the poet Khani, written 300 years ago and tells a love story that took place in 1629.
"It is as if it was written for our time. I hope to perform my opera again in Kurdistan in the near future," he added.
https://www.kurdistan24.net/en/story/31 ... in-Germany